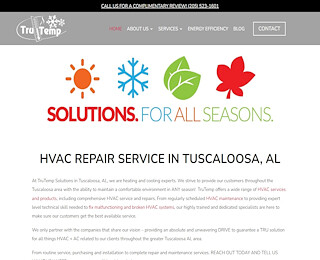 Today, if you have something broken in the house, you can go online and find countless recommended DIY solutions. This includes videos showing you how to fix heating systems. While you can undertake many home improvements without hiring professionals, it's advisable to leave your heating, ventilation, and air conditioning unit to the experts. Attempting to fix your equipment on your own increases the risk of fire, causing extensive damage and voiding your warranty. Often, trying to save on the cost of hiring a technician results in more expenses.
At Tru Temp, we offer the finest furnace repair in Tuscaloosa. As one of the leading Tuscaloosa HVAC companies, we accurately diagnose furnace issues and provide reliable, timely, and lasting solutions.
5 Reasons Why We Have the Best Furnace Repair in Tuscaloosa
There are plenty of reasons why we have the best Tuscaloosa heating and air conditioning repair, and here are 5 of them:
Our Thorough Inspection
Before performing Tuscaloosa AC repair, we first conduct a detailed inspection of any unit to determine the actual source of the problem. This enables us to apply the ideal solutions to get your system up and running in no time. It's important to avoid technicians who are more interested in completing repairs without correctly diagnosing your equipment.
We Service all Makes and Models
No matter what make or model your furnace is, our top technicians can service it. We've dealt with different heating units, and our up-to-date training coupled with our experience equips us with the know-how to fix any model.
Our Reliable Customer Service
If you have queries about your machinery or our services, we're ready to offer helpful answers. We take the time to explain our services to our clients, so they understand our repair process. Homeowners who hire us get to understand what caused their furnace problem, how we're going to solve it, and how they can prevent avoidable breakdowns in the future.
We Provide Cost-effective and Timely Solutions
We're available to carry out repairs as soon as a malfunction occurs. This prevents the problems from escalating due to the unit overworking itself. We also offer the most cost-effective and reliable solutions. Some companies will try to charge you for unnecessary services, but at Tru Temp, we pride ourselves in making heating and air conditioning repair affordable for our clients.
We Handle Both Small and Large Repairs
As leading licensed HVAC contractors in Tuscaloosa, we handle both minor and serious repairs. So, if your furnace has a small mishap but is still working, we can send our technician to check it out. And if it's a major problem, we'll ensure your system is in tip-top condition in the shortest time possible.
Heating System Experts at Your Service
It's best not to take any chances with your furnace and instead leave it in the hands of experienced technicians. Our unexcelled team providing furnace repair in Tuscaloosa will not only restore your unit to optimal working condition but also provide maintenance services to keep it repair-free for as long as possible. Contact Tru Temp for the best HVAC service in Tuscaloosa AL: 205-523-1601.